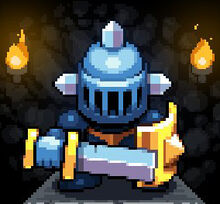 He is the first character in the game and costs no
coins
.
He's almost similar to Ribb, with the only difference being he can't withstand electricity and fire and doesnt go forward several meters after passive ability used.
Abilities
Edit
Starter: None
Unlockable - [Passive] Shield: Protect SIr Gylbard from obstacles(max 3 
                                                if fully upgraded) excluding electricity, fire,
                                                wisps, falling, and The Darkness
                   [Activate] Thrust: Break obstacles and kills creatures within 3
                                              meters in front of you
Appearance
Edit
Sir Gylbard have a blue armor, golden shield, and a sword.
The helm have 3 spikes and the shield only have one.
Weirdly, the sword doesn't have a sharp edge.