"Dancing non-stop to please the spirits of gold."
.Ichitaka costs 4000 coins to unlock
He's an excellent coin collector.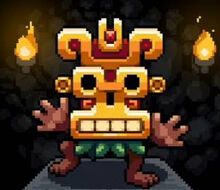 Abilities
Edit
Starter - [Passive] Coin magnet: Attracts coins from a distance(3 tiles max.)
Unlockable - [Activate] Telekinesis: Collect coins from surrounding chests
                                     (kills mimics )
Appearance
Edit
Ichitaka wears a leaf robe and a tiki mask.
You can see him dancing while going through the dungeon